About Us
Home World the Story ....
OPEN 7 DAYS A WEEK.
MANUFACTURER'S NAMES MAY BE REMOVED TO PROTECT THE MANUFACTURER.
VISIT OUR BLOG HERE - http://www.homeworldonline.co.uk/blog/

Are all of your products shown online?
We showcase a sampling of products on our website; however, not all of the furniture available at our stores are shown online. Due to the nature of our business model, where we purchase one-of-a-kinds, closeouts, overstocks, clearance, & bankrupt stock, items can vary in store and often sell out as soon as they arrive.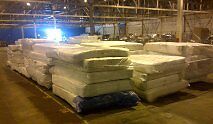 Bulk buying

Furniture, Sofas and Mattresses. Year after year, famous manufacturers turn to us for quick liquidation and disbursement of unclaimed freight, cancelled orders, closeouts, overruns, and special buyouts. Our buyers purchase only large volumes of brand name furniture. Also due to the way that major well known retailers are pre-ordering goods from the Far East, changing consumer demand and new innovations in technology means that we can always get hold of excess stock of names you are familiar with, at prices you are not!
Many stores also have beautiful showrooms with expensive plush carpet on the floors and expensive lighting to make the furniture look better than it ever will look in your living room. Guess who pays for these expensive showrooms?? It's YOU (well, if you choose to buy furniture from those places). They have to charge you a lot more than the furniture is worth in order to pay for all those expenses. We don't waste money on these things and then we don't have any pass-along costs.
WE GUARANTEE YOU WONT FIND A BETTER PRICE ANYWHERE ELSE - WHY BUY ELSEWHERE!!!

We pride ourselves at being cheaper than most other sellers. Please feel free to call us to get your item at the lowest price.

Credit Card Hotline:

01472 349500 (mon- sat / 9am - 5.30pm)

AS A MEMBER OF THE FEDERATION OF SMALL BUSINESSES WE CAN BE TRUSTED !